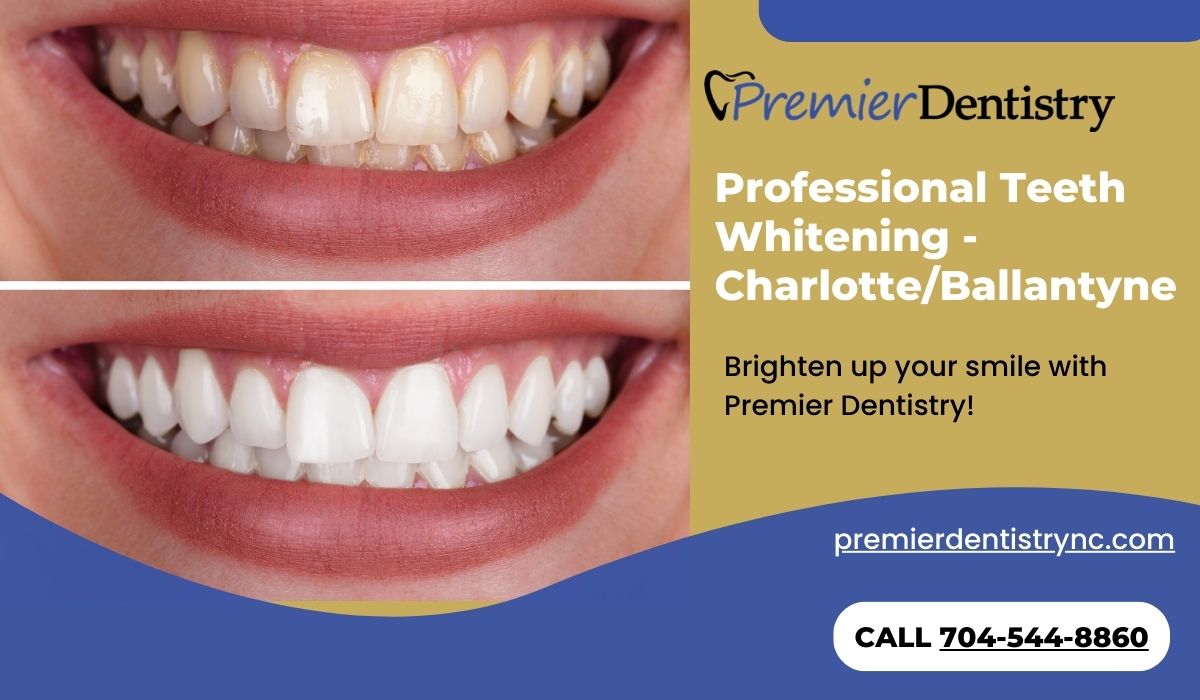 Brighten up your smile with Premier Dentistry! Our professional teeth whitening services can help you achieve a dazzling smile you will love.
Do you find it challenging when you look in the mirror and notice the color of your teeth? We can whiten your teeth and brighten your smile when you visit our office for professional teeth whitening.
Welcome to Premier Dentistry, where we provide top-notch dental services to our patients. A beautiful, bright smile is essential to your confidence and overall appearance. We offer professional teeth whitening services to help you achieve your desired smile.
Our teeth whitening service is a safe and effective way to brighten your smile. Our experienced dental professionals use state-of-the-art equipment and techniques to ensure the best possible results. We offer in-office and at-home teeth whitening options to fit your schedule and preferences.
Premier Dentistry is committed to providing you with the best possible dental experience. We strive to create a serene and comfortable environment, treat you like family from the moment you walk through our doors, and ensure your comfort and satisfaction. 
A beautiful, healthy smile can enhance your overall well-being, and we are committed to helping you achieve the smile of your dreams. Whether you need a routine checkup or a complex dental procedure, we are here!
Common Issues with Stains and Discoloration
One common issue is stains and discoloration, which can be caused by aging, tobacco use, certain foods or drinks, poor oral hygiene, and certain medications. Enamel erosion is another problem that can cause teeth to appear yellow or gray. The outer layer of your teeth, called enamel, can erode due to acid exposure, poor oral hygiene, and certain medical conditions. 
Additionally, cavities, gum disease, cracks, and chips can all cause teeth to become discolored. Misaligned or crooked teeth can also contribute to discoloration, creating pockets between teeth and gums that can trap food and bacteria. In summary, maintaining proper oral hygiene and visiting your dentist regularly can help prevent and treat these dental problems associated with teeth that are not white.
In-office Teeth Whitening
Our in-office teeth whitening service is a quick and straightforward procedure that takes about an hour. We use a professional-grade whitening gel that is carefully applied to your teeth. A special light is then used to activate the gel, which helps break down the stains on your teeth. The result is a brighter, whiter smile that can be up to 8 shades lighter than your original teeth color.
Benefits of Teeth Whitening
Teeth whitening offers many benefits, including:
Improved confidence: A brighter smile can boost your self-esteem and confidence.

Enhanced appearance: A brighter smile can make you look younger, healthier, and more attractive.

Increased oral hygiene: Teeth whitening encourages better oral hygiene habits, such as brushing and flossing regularly.

Safe and effective: Our teeth whitening service is safe, effective, and minimally invasive, with minimal discomfort and no downtime.
What are the benefits of getting your teeth whitened at the dentist?
While it's true that you can whiten your teeth at home with over-the-counter products, there are several benefits to going to a dentist for professional teeth whitening:
Stronger Whitening Agents:

Professional teeth whitening products used by dentists contain stronger and more effective whitening agents than over-the-counter products, which means you'll see more noticeable results in less time.

Customized Treatment:

Your dentist will tailor the treatment to your needs and goals. They will examine your teeth and gums, check for any underlying dental issues, and adjust the strength of the whitening agent as necessary.

Safe Treatment:

When you whiten your teeth at home, there is a risk of using too much whitening gel, which can damage your teeth and gums. However, when a dentist whitens your teeth, they will monitor the treatment to ensure it's safe and effective.

Faster Results:

With professional teeth whitening, you'll see results in as little as one appointment. At-home treatments can take several weeks or months to show any noticeable difference.

Long-lasting Results:

Professional teeth whitening can provide longer-lasting results than at-home treatments. Your dentist can provide you with instructions on how to maintain your bright, white smile.
Teeth Whitening is free with Invisalign® treatment.
The process of how a dentist whitens your teeth typically involves the following steps:
Dental Examination:

Before the whitening process begins, your dentist will examine your teeth and gums to ensure they are healthy and suitable for the treatment. If you have any cavities or gum disease, these must be treated before the whitening process can begin.

Preparation:

Your dentist will clean your teeth to remove plaque or tartar. Next, they will apply a protective barrier to your gums to prevent the whitening gel from irritating them.

Whitening Agent:

Your dentist will apply a professional-strength whitening gel to your teeth, which contains a high concentration of hydrogen peroxide or carbamide peroxide. Some whitening systems use a light or laser to activate the gel and speed up the whitening process.

Multiple Applications:

The whitening agent is typically left on your teeth for 15-30 minutes before removal. The process may be repeated multiple times until the desired level of whiteness is achieved.

Post-Treatment:

Once the whitening process is complete, your dentist will remove the protective barrier from your gums and rinse your mouth thoroughly. Your dentist may also recommend a fluoride treatment or a desensitizing gel to help reduce sensitivity.
Overall, how a dentist whitens your teeth involves a thorough dental examination, preparation, application of a professional-strength whitening agent, multiple applications, and post-treatment care. With professional teeth whitening, you can achieve a brighter, whiter smile safely and effectively.
Schedule Your Teeth Whitening Appointment Today
If you're interested in improving the appearance of your smile with teeth whitening, we invite you to schedule an appointment with us at Premier Dentistry. 
Our team of experienced dental professionals is dedicated to providing the highest quality dental care in a comfortable and welcoming environment. 
To help make your visit more pleasant, our treatment rooms are designed with ergonomic chairs, dual TVs, and complimentary Wi-Fi. Premier Dentistry is dedicated to using the most advanced technology available to provide exceptional dental care.
"Dr. Patel is a wonderful dentist! He is very knowledgeable, honest, takes the time to listen to you, is gentle, and does amazing work! His staff is super friendly and their office is beautiful and clean. Look no further than Premier Dentistry." 🙂 ~ Katherine Zamora
Contact us today to schedule your appointment and take the first step towards a brighter, more confident smile.