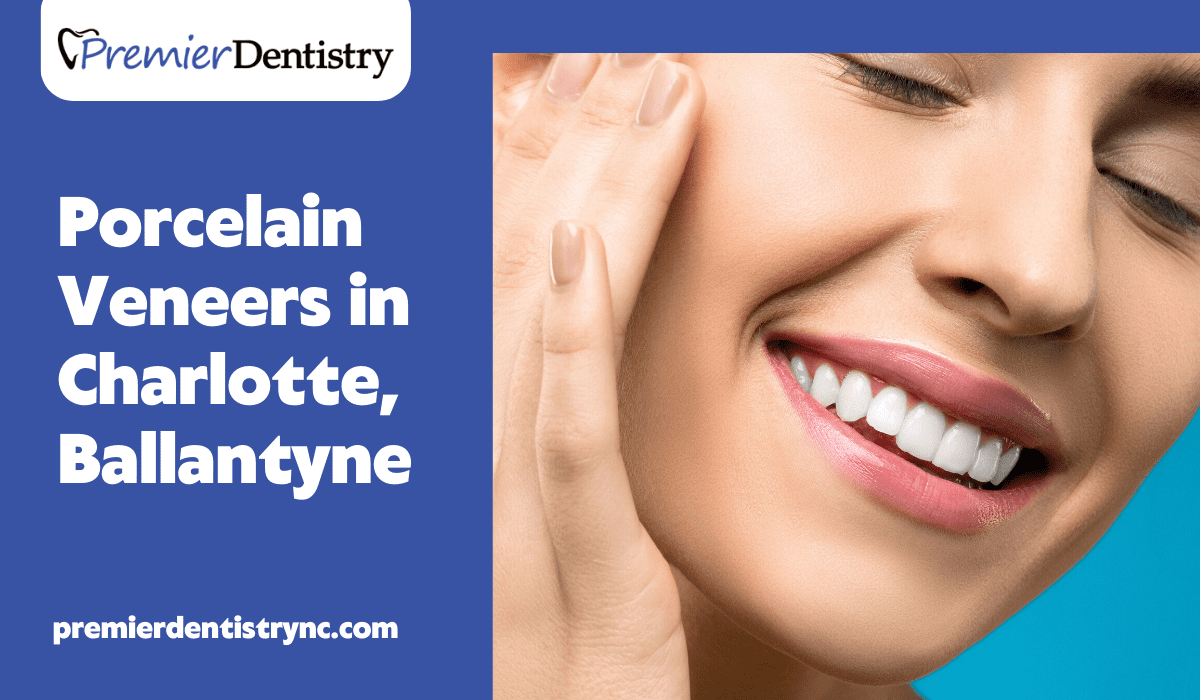 Premier Dentistry is the #1 rated dentist office in the Ballantyne and Charlotte area. When you visit us, we treat you like family! We take pride in providing patients with healthy and beautiful smiles.
Porcelain veneers are a great solution to problems like chipped, broken, or worn teeth. They cover large fillings and gaps in between teeth. A porcelain veneer is a custom-made thin shell to fit over the front of your tooth. Unlike other dental procedures, such as crowns or bridges, which take more time and require more visits to your dentist's office, porcelain veneers are applied in one visit without drilling or cutting into surrounding teeth.
If your teeth are chipped, broken, or worn, porcelain veneers will fix them. The veneers are strong and durable, so they're great for fixing teeth damaged by tooth decay or trauma. They're also thin enough to make your smile look natural and restored.
At Premier Dentistry, we pride ourselves on offering our patients a relaxed and comfortable environment combined with the best and most advanced technology. Our staff treats you like part of our family when you visit for an appointment. 
What are porcelain veneers?
Porcelain veneers are ultra-thin, custom-made tooth shells covering the front teeth. They improve the appearance of teeth and close gaps between teeth. 
Porcelain veneers are an ideal choice for improving your smile. They are thin shells that bond directly to the front surfaces of the teeth. Placing veneers requires a high degree of technical skill and attention to cosmetic detail. We place veneers routinely and design each case individually to match and enhance the characteristics of each patient's smile.
The Porcelain Veneers Procedure
When you get porcelain veneers, our staff or dentist will take impressions of your teeth and send them to an oral laboratory for fabrication. The lab makes custom-shaped shells out of a high-quality ceramic material called porcelain. Porcelain is extremely strong, so it will not break easily or wear away over time like other materials, such as plastic, would do in these areas where chewing forces are highest (front surfaces).
Once the lab fabricates the shells and sends them back to the dental office. Dr. Patel (or a dental hygienist bonds them onto each tooth surface one by one using special cement called dental composite resin.
When this process is complete, all that remains is for the staff to polish your new teeth until they shine!
The actual placement of the porcelain veneer takes just minutes, but the procedure can take up to two hours. Before the work begins, the dentist will numb your mouth with a local anesthetic such as Novocaine or Xylocaine.
Dr. Patel will remove any decay and clean out any infected areas in your teeth. He traces the outline of your tooth onto a wax pattern, which is used to create a custom fit for your new veneer. 
He uses special tools to bond the veneers onto each tooth individually at this point. Once they are set into place, you'll be given instructions on how to care for them properly over time so that they last longer than other types of dental restorations like crowns or fillings would have done on their own without these treatments being performed first (which makes sense because those types only work temporarily).
What do Porcelain Veneers look like?
Many people who have veneers love how they look—and feel! You won't experience any sensitivity after getting a set of porcelain veneers because they're made with materials that work well with sensitive teeth. You might even notice that eating has become easier than ever before!
The ultra-thin porcelain veneers are virtually undetectable and highly resistant to coffee, tea, or cigarette stains. For strength and appearance, they are unmatched by other restorative options.
How strong are Porcelain Veneers?
With proper care, porcelain veneers will brighten your smile for over a decade.
Porcelain veneers will brighten your smile for years to come if you take good care of them. Dr. Patel will ensure that your veneers are made from the highest quality porcelain and bonded with the most advanced materials available. 
Dr. Patel is an awesome doctor and cares greatly about his patients. When you find a dental team that takes care of you this well, you'll never go anywhere else.
You can improve your smile today with porcelain veneers provided by Premier Dentistry. We're affordable, comfortable, and easy to maintain. If you've been considering porcelain veneers, make an appointment with us today!
Feel free to read our full list of services so that we can serve your whole family.