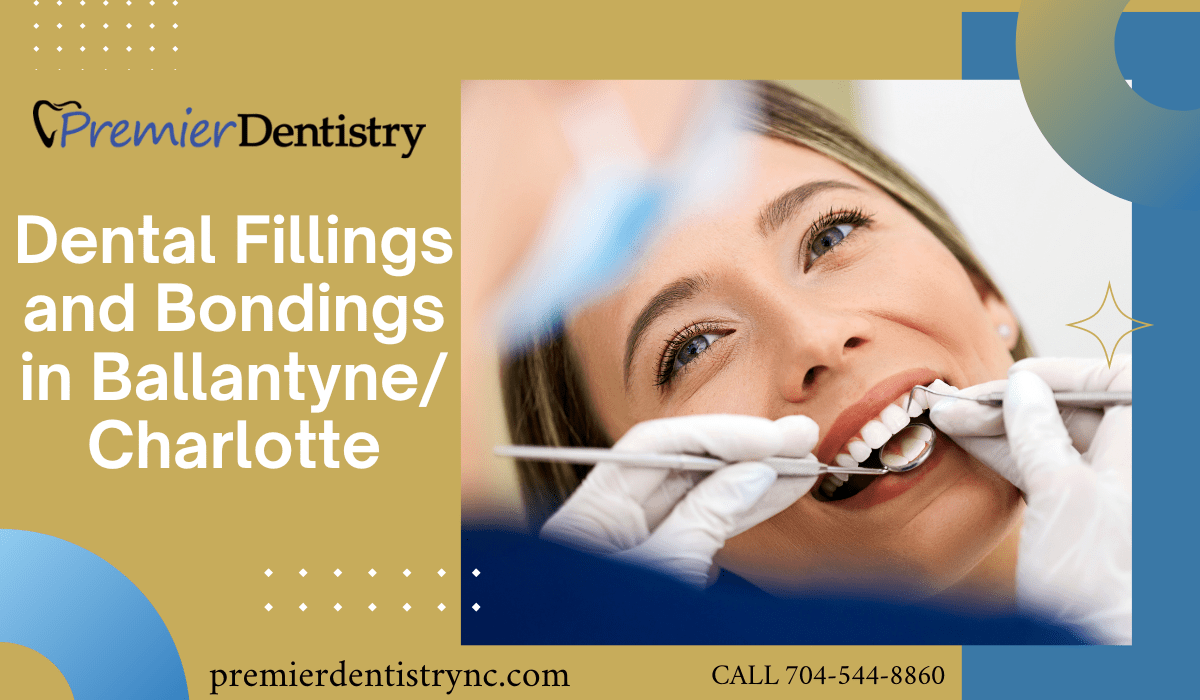 Premier Dentistry offers comprehensive dental care in the Ballantyne and Charlotte area. From family dentistry to cosmetic dentistry, we want to help you look and feel your best.
Tooth pain can be one of the most frightening experiences, especially if you don't know what is causing it. The most important thing to realize with tooth pain is that the sooner you call your dentist, the sooner they will do everything they can to find relief.
At Premier Dentistry, we understand that the intensity of tooth pain can be a scary experience. But it doesn't have to. If you have pain in your tooth, jaw, or mouth, call us for dental services in Ballantyne. Our dentist and staff will work with you to find the best solution that meets your needs, schedule, and budget.
If you are experiencing tooth pain and need to see a dentist in the Charlotte/ Ballantyne area, please call 704-544-8860.
The loss of a tooth, can be emotionally and physically traumatic, but at Premier Dentistry, we will do everything possible to save your tooth first. If we've tried everything and tooth removal is a must, we can provide you with a filling and bonding solution that will make your smile as good as new.
A dental filling or bonding is when dental restorative material is used to restore the function, integrity, and anatomy of the missing tooth structure. This restoration typically results from decay, wear, or trauma.
Why do you need to get fillings?
The most common reason to get a filling is tooth decay. Filling a cavity is standard in dentistry, so you can trust that your dentist is an expert at restoring damaged teeth.
Cavities – A cavity is filled to stop the decay that has already begun from spreading further into the tooth. The filling preserves the structure of the tooth and prevents further damage.
When you get a filling, your dentist removes decay from the affected tooth, and fills the space. with a material that acts as a sealant and then smooths over the surface. To protect the nerves and dentine inside the tooth, we use crowns to cover them when a cavity is present.
Cracked tooth – If you have a cracked or worn tooth, your dentist may recommend a filling. A filling can strengthen the tooth and prevent further cracking or wearing away of the surface.
When a tooth has been damaged by decay, fillings are used to repair the damage and restore the health of your tooth. A filling is performed by removing the decayed portion of the tooth and then filling in the space with a material imitating healthy tooth structure. There are many different types of fillings that dentists can use for this purpose–some more durable than others.
Filling (restorations) is what most dentists and patients refer to as "fillings." A filling is used to "fill" an area of tooth that your dentist has removed due to decay – "a cavity."
Premier Dentistry only uses the most advanced and up-to-date material for fillings.
Premier Dentistry and Dr. Anand do not use Silver fillings (also called amalgam). In the past, dentists used amalgam for fillings. There are many disadvantages to using this type of filling. You can read the harmful effects associated with amalgam and why we use a safer, more alternative solution.
A better material for fillings is composite resin. Composite fillings are a more natural option than other types of tooth fillings. They can match the color of your existing teeth, so they're more inconspicuous than metal or plastic fillings.
Bondings are similar to fillings but are typically used to restructure a damaged tooth.
Bondings are similar to fillings but are typically used to restructure a damaged tooth. Bonding repairs a tooth that has been broken, knocked out or chipped. If you have had a tooth removed and want it replaced with something that looks more natural than an implant or bridge, this procedure is right for you.
The dentist (Dr. Anand) will take an impression of your mouth and send it to a lab to make a new piece of porcelain or composite resin (the material used in most dental crowns). Once everything is ready and checked over by Dr. Anand, he'll fit it into your existing teeth before polishing off any rough edges with high-powered lasers.
Once your tooth is cleaned, the dentist will decide what type of filling or bonding is best for your needs.
Once your tooth has been cleaned, the dentist will decide what type of filling or bonding is best for your needs. The dentist will take into consideration:
Your condition (how much decay there is)

Your budget (the cost of treatment),

Your preferences (whether you want an aesthetic or functional solution).
Dental bondings are similar to fillings but are typically used to restructure a damaged tooth rather than repair it completely.
A filling or bonding is placed on your tooth after it is clean, ensuring that nothing is left inside that could interfere with the proper placement of the filling or bonding material. Premier Dentistry is your best choice for dental fillings, bondings, and family dentistry.
Premier Dentistry is your #1 preferred dental office.
Premier Dentistry is your "premier" dental office in Ballantyne, North Carolina. We want to make every visit a comfortable experience, so each patient feels welcomed and comfortable. We provide all our patients with exceptional care using the latest technology, tools, and techniques. Our staff works together to give you the smile of your dreams.
We take most insurance and offer PremierCare— our in-office dental savings plan, designed to enable our patients to receive their dental treatment at a discount. This plan rewards our patients' loyalty by providing them with the same great care, except at a lower rate.
Premier Dentistry is a family dentistry, and we treat you like family. We provide 5-star service and quality care to our patients. You can either schedule an appointment online or contact us by phone to request an appointment.  704-544-8860
We look forward to meeting you.